After last couple of years, we are all eager to welcome an albeit slower return to normal. While gyms and sports halls are still somewhat struggling to get their feet back under them, outdoor sports facilities and training equipment have leapt to the forefront of exercise; with many new products and innovations taking the world's park and playground by storm.
While we have seen some great new advances in the field of outdoor gym quipment, we have also rediscovered our passions and love for tried-and-true products for outdoor training that have stood the test of time and that continue to attract new users and, as we say, invite mankind outdoors.
Let's take a look at some of the outdoor gym trends of 2022!
Weight training
Sisu is a Finnish word that most people will struggle to translate directly. In fact, it's not so much a thing; as it is a feeling or attitude. Sisu means determination and having the guts to dig deep and keep fighting; even when you're exhausted and feel as though you can't go on. Sisu is what gives you that extra umph and helps you to push through. It would seem only fitting then that Lappset's newest line of outdoor sports equipment is intended to help you find your inner-Sisu and take it up a notch, in the process.
Versatile and inclusive, Sisu Fitness weight training products provide a user experience that can be tailored to fit anyone's needs and abilities. Sisu Fitness' adjustable and fully-contained inner-workings mean that you can set the weight that you are comfortable with and not have to worry about getting your fingers smashed between heavy plates, like at the gym.
Not only is Sisu Fitness eye-catching and made of quality, durable materials, it's also easy to install and maintain; saving municipalities and communities valuable money, at a time when most are trying to find places to cut costs.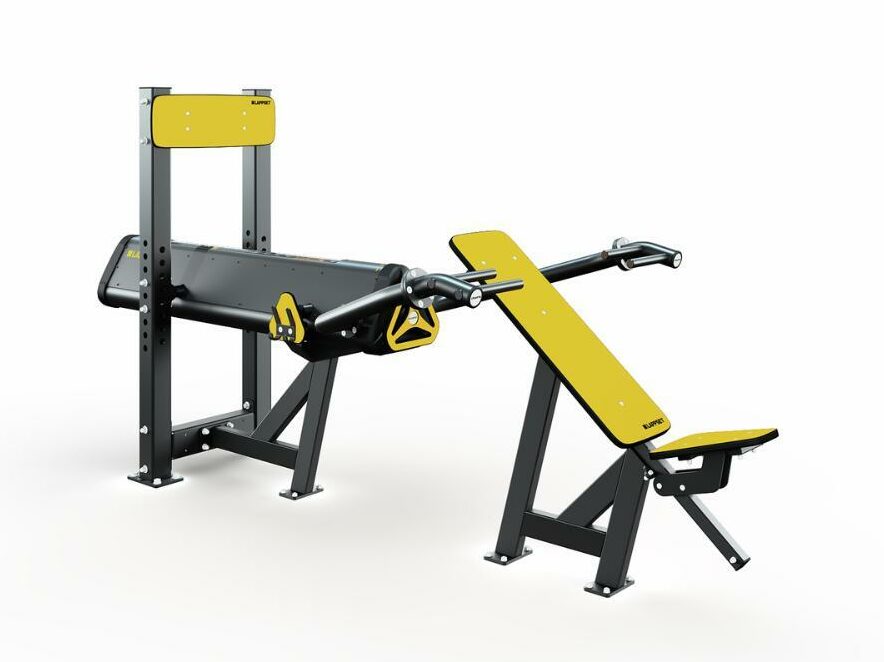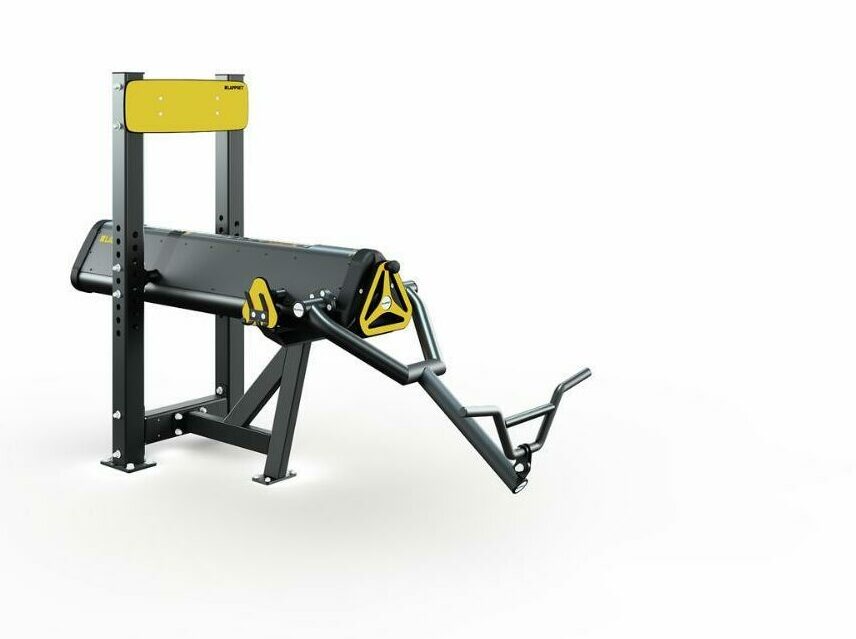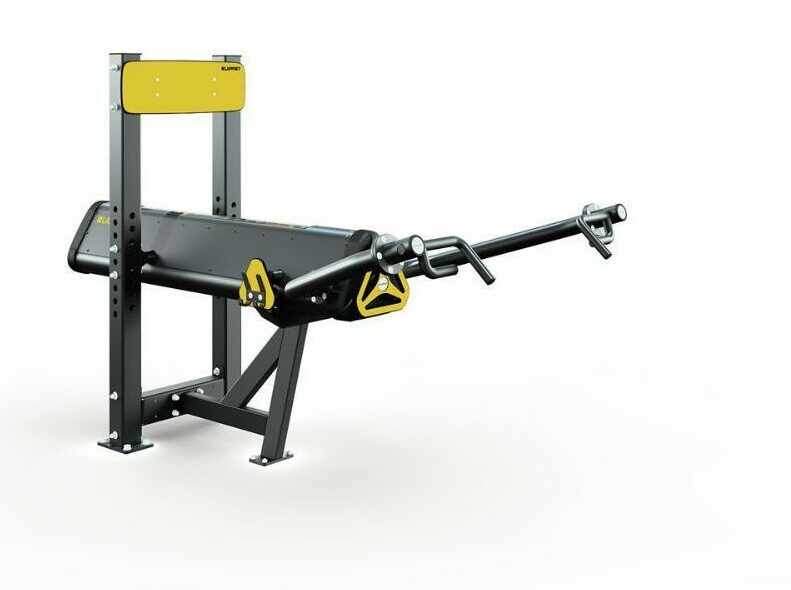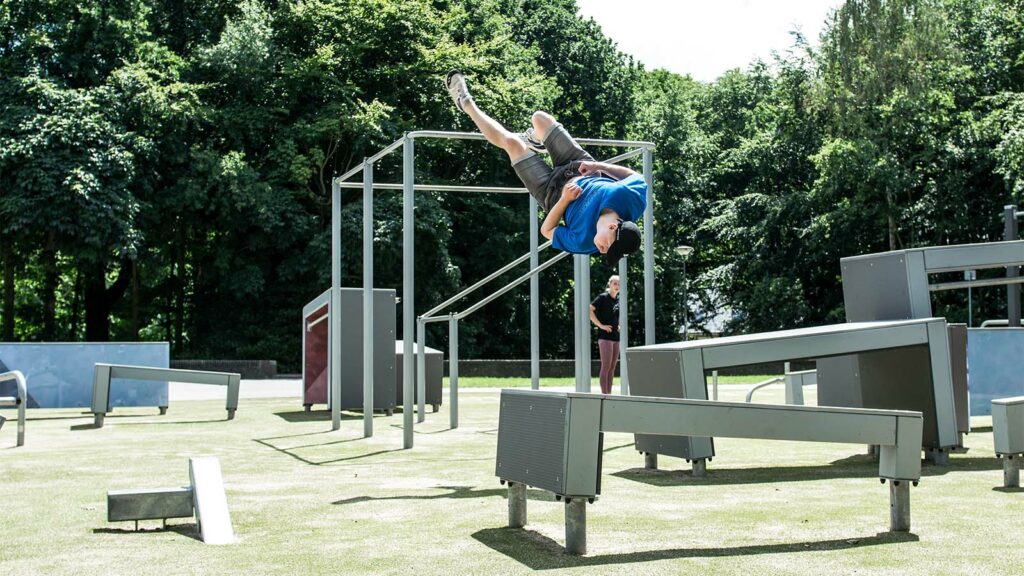 Parkour
The idea of parkour is to achieve smooth, uninterrupted movement through an area, typically in an urban environment, negotiating obstacles by running, jumping, and climbing. Although parkour is a street sport, parkour parks are gaining popularity. Dash Parkour areas provide better functional density and countless of movement combinations. The scalability enables training of beginners and more advanced practitioners in the same place. Designed and tested according to EU standards. parkour parks stay in good shape.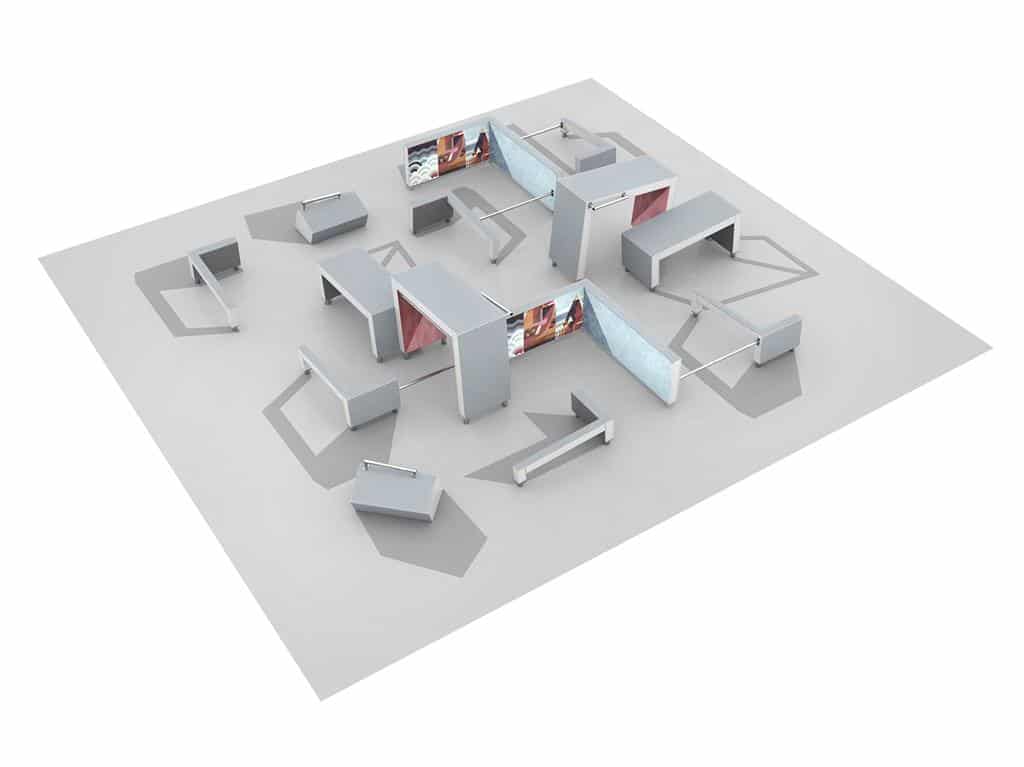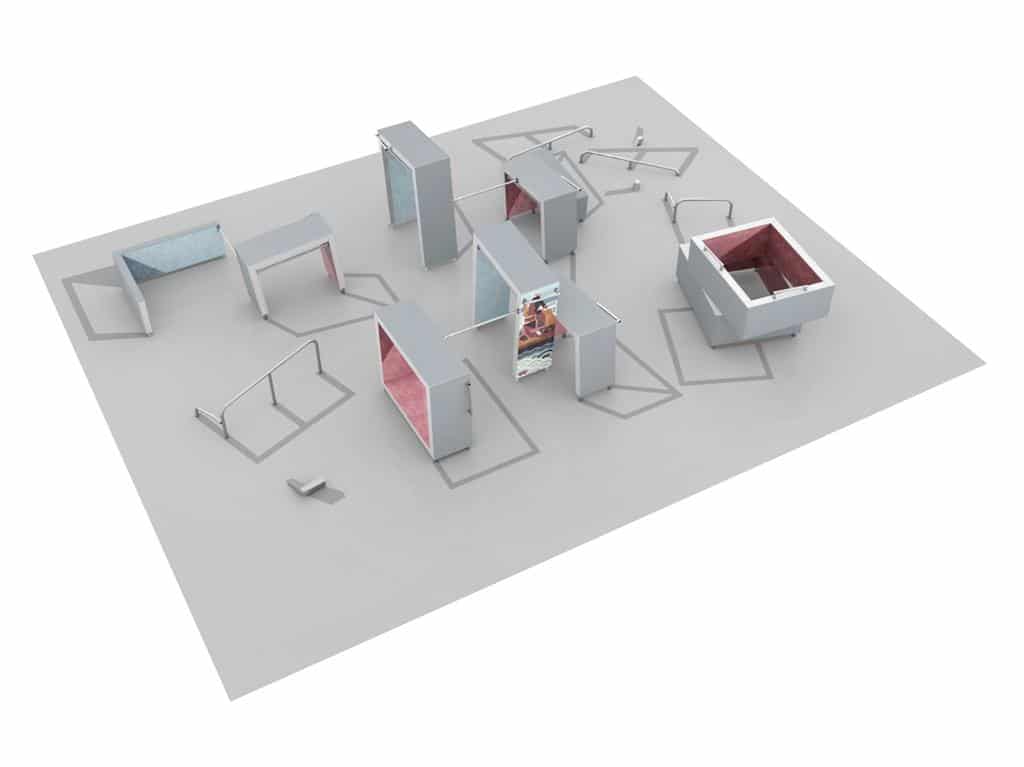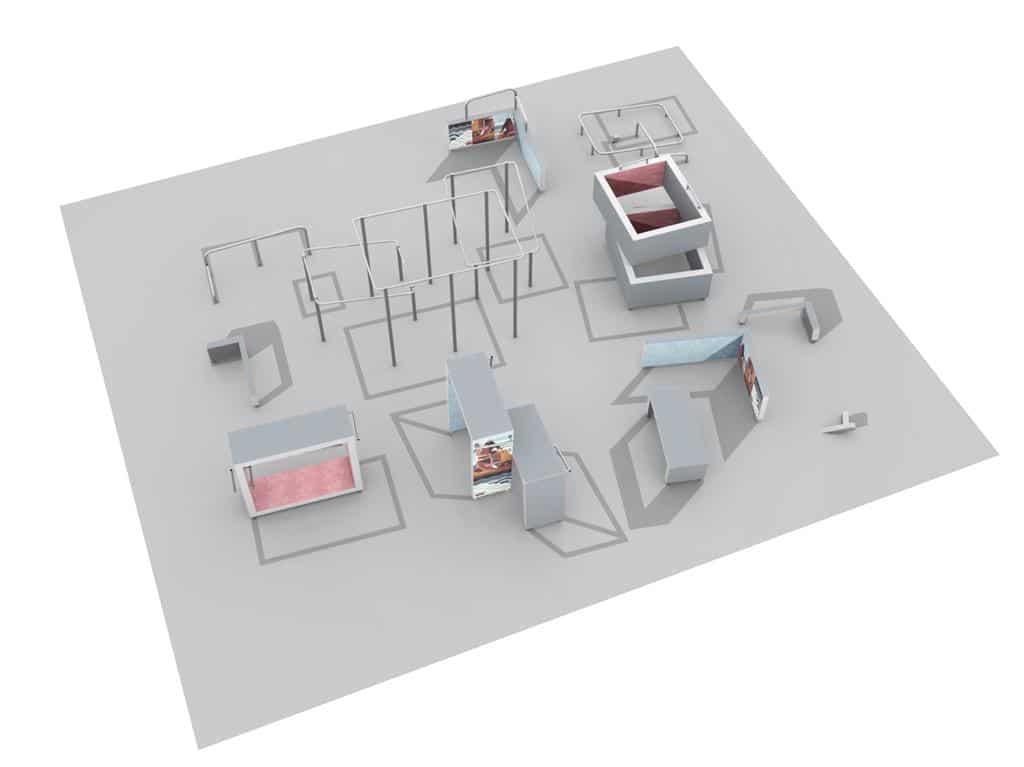 Let's play tag!
Forget everything you thought you knew about the classic game of tag. Well, not everything, but let's just say Lappset TAG is the new and updated version. The rules are the same, but now you add in the elements of parkour and an obstacle course to make it a truly thorough and fun workout. Suitable for many skill levels and constructed using ant-slip surfaces, Lappset TAG allows its users to improve their strength and agility, all while playing keep-away from one another.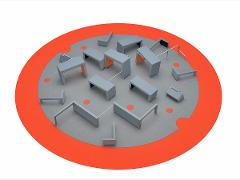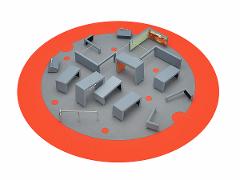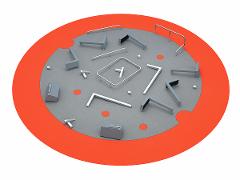 Functional training
Made popular thanks to fitness competitions like the Crossfit Games, Tough Mudder and alike, Lappset Fitness incorporates many different exercises and disciplines into a compact and efficient product offering that doesn't require a huge footprint or space requirement. Developed in cooperation with 2009 CrossFit World Champion, Mikko Salo, there's credibility behind the product, too, making it clear that this wasn't just something that was thrown together to meet the current flavor of the week; but rather a meticulously planned and expertly crafted piece of outdoor sporting equipment that has continued to appeal to users for over a decade.
On top of everything: Lappset Fitness areas are free for everyone to enjoy. Playing a key role in building socially, economically inclusive sport facilities in cities.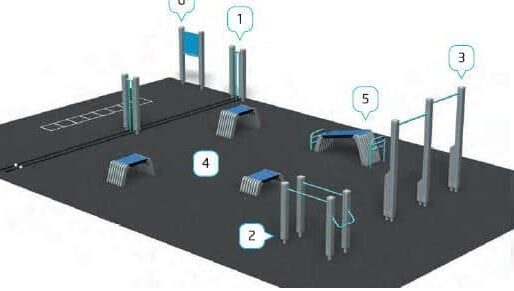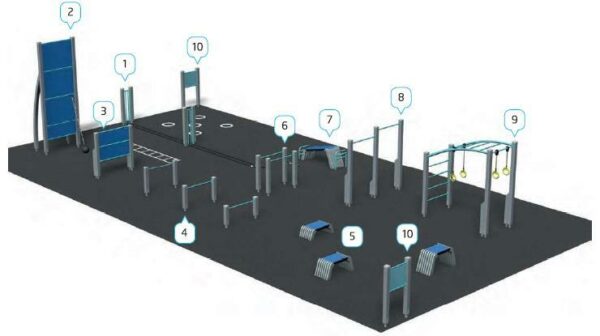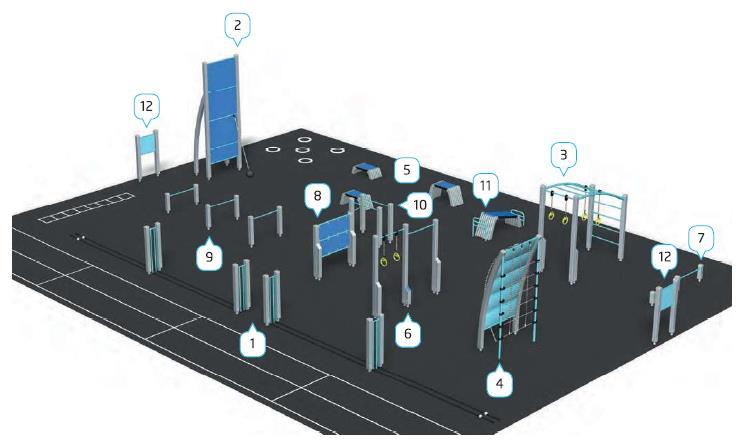 Bodyweight training
OK, so we have Sisu Fitness and Lappset Fitness, but now we introduce to you Sisu Fitness Frame – a melding and mixing of what makes both of the aforementioned products great, but with some added bells and whistles to really kick it up a notch.
Lappset's newest outdoor sports offering, Sisu Fitness Frames take functional training to new heights, without demanding a huge amount of area in which to do them. This doesn't limit the number of users, though, as up to 20 people can easily work out on the largest of the Sisu Fitness Frames, at the same time. If you look at a typical CrossFit gym, they're usually massive and in the basement of a warehouse. Great for setting the mood if your goal is to survive a horror movie; but when we work out, we prefer to have fresh air and a cool breeze against our skin; and not having to choke down the sweat smell of the people who have questionable showering habits from the earlier class.
Whether by yourself or with friends, the Sisu Fitness Frame is a game-changing piece of outdoor sports equipment that has a bright future.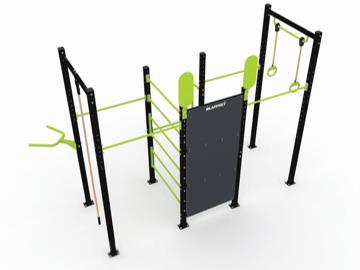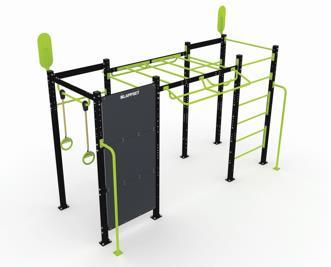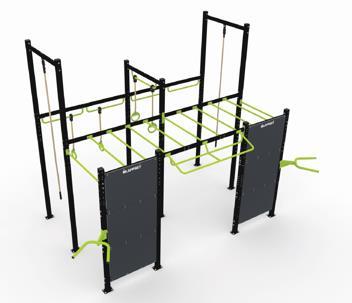 Gaming in the physical world
Interactive sport spots by Yalp Interactive are popping up around the world as modern technology allows for a broad spectrum of new and exciting possibilities!
Interactive play and sports are the interface between the digital and the real world. The gaming world offers imagination, learning, fun, variety, the excitement of reaching the next level, and the possibility to adapt levels to an individual player. The physical world brings physical activity, social interaction, community involvement, and the rewarding feeling of being outdoors. Combining both worlds brings our development to the next level. We consider interactive play the "best of both worlds".
New! Yalp+ App
Taking it to the next level! After setting a score on one of our interactives, users can claim their score in the Yalp+ app. The app doesn't have to be used when using the products, but it allows players to claim their score and enter worldwide competitions.
Interactive sport spots can contribute to inspire the new generation to be active and live a healthy life!